TWRI's newest issue of txH2O magazine has been published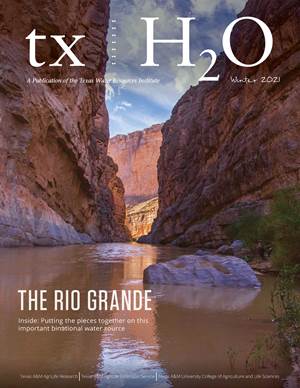 The Texas Water Resources Institute recently published the Winter 2021 issue of its magazine, txH2O, spotlighting the Rio Grande.
Staff writers interviewed water researchers, irrigation experts, water district managers and more to learn about the issues along the big river and research efforts in place to overcome these challenges.
The articles Getting to Know the Rio Grande and How the Rio Grande Came to Be provide a historical framework for the Rio Grande. Other articles detail past and current research efforts focused on transboundary collaboration and the unique agricultural landscape and irrigation practices along the river. The final article of this issue offers perspectives and solutions for the future of the Rio Grande.
"In this issue of txH2O, we only scratch the surface of the many challenges that the Rio Grande faces, but we provide a more in-depth look at some of the efforts aimed at addressing these challenges," said TWRI assistant director Allen Berthold in the opening letter to the magazine.
Read the complete issue on Issuu or download the pdf. Subscribe to txH2O magazine for future publication updates.