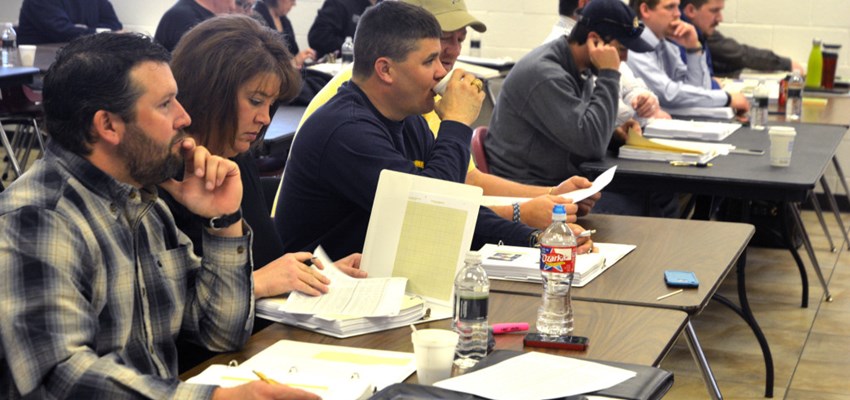 2021 Master Marketer Program to be held in Weslaco
The 2021 Master Marketer Program, developed by the Texas A&M AgriLife Extension Service and the Department of Agricultural Economics at Texas A&M University, will be held from Sept. 28 through Nov. 11 in Weslaco.
Participants will meet in person at the Texas A&M AgriLife Research and Extension Center, 2401 E. U.S. Highway 83. Morning sessions, with the exception of the optional Leveling Workshop on Sept. 28, will be live-streamed and recorded. Recordings will be made available on the Zoom platform for those unable to attend in person. On or about Sept. 15, instructions to online access will be emailed to registrants.
The program cost is $350 and includes noon meals and educational materials. Registration is available at tx.ag/MasterMarketer21.     
About the Master Marketer Program
"The Master Marketer Program is designed for agricultural producers and agribusiness leaders experienced in marketing commodities and having some knowledge of futures and options markets," explained Mark Welch, Ph.D., AgriLife Extension economist, Bryan-College Station. "It contains 64 hours of intensive marketing training that focuses on cotton, grains and livestock."
Attendees are trained in marketing techniques, marketing plans, technical analysis, futures and options, and other marketing-related skills.
Master Marketer events are held annually in different parts of the state, with next year's program taking place in Amarillo. Since 1996, more than 1,200 participants throughout Texas have graduated from 32 Master Marketer programs.
"This course will help attendees learn how to reduce risk and get more profit from their farm or ranch operation," said Samuel Zapata, AgriLife Extension agricultural economist based at the Weslaco center. "Program participants report increased financial returns to their farming and ranching operations as well as an increased understanding of risk management concepts."
2021 Master Marketer Program dates and details
Dates and topics for the 2021 Master Marketer Program are:
— Sept. 28, Leveling Workshop. The optional one-day Leveling Workshop reviews the basics of futures and options markets. Master Marketer participants should have at least a working knowledge of futures and options markets. This workshop provides a foundation for those who do not have this knowledge and a refresher for those who do.
— Sept. 29-30, Budgets, Farm Policy, Developing a Marketing Plan, and Marketing Tools and Strategies. Day one addresses the foundation of price-risk management, starting with the importance of having a marketing plan. Basic pricing marketing tools and marketing strategies are presented including a discussion of seasonality and working with a lender. There will also be an update on agricultural policy. On day two, participants will break into commodity groups and begin developing a specific marketing plan for the coming year.
— Oct. 13-14, Weather, Financials, Technical Analysis, Crop Insurance Overview and FARM Assistance. These two days will cover weather outlook and climate trends, as well as a broad range of issues related to crop and livestock insurance products. A discussion of changes to insurance products for 2022 is included. 
— Oct. 27-28, Hemp and Specialty Crops, Grain Fundamentals, Cotton Fundamentals, Ag Insurance with an Agent, Legal Issues, and Trading Simulation Exercise. This session's discussions will be on the potential for hemp and specialty crops, as well as supply and demand fundamentals for cotton and grain. A trading exercise will let participants put their marketing skills to the test. Also included is a discussion of legal risks and challenges.
— Nov. 10-11, Livestock Fundamentals, Hire Education, Legal Issues and Tying It All Together. Included will be a discussion of supply and demand fundamentals for livestock and of educational programs and applied research related to farm management and marketing. Additional discussion will cover legal risks and challenges.
"Graduates of Master Marketer programs receive much more from their education than just financial benefit," Welch said. "They are more likely to adopt or implement a marketing plan, and graduates surveyed also report a significant increase in confidence in employing the marketing tools they learn about in the program."
More information on the Master Marketer Program can be found at https://mastermarketer.tamu.edu or by contacting Zapata at 956-968-55810, samuel.zapata@ag.tamu.edu, or Welch at 979-845-8011, jmwelch@tamu.edu.
Funding for the Master Marketer program has been provided by Cotton Inc.‐Texas State Support Committee, Southern Risk Management Education Center, Texas Farm Bureau, Texas Grain Sorghum Producers, Texas Wheat Producers Board and AgriLife Extension.