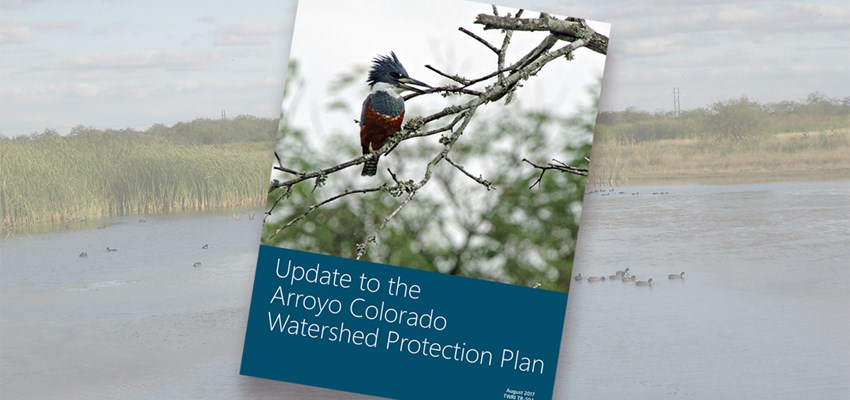 December 6, 2017 Update
Hello Arroyo Partners: 
The Arroyo Colorado Watershed Partnership is very pleased to announce that the Update to the Arroyo Colorado Watershed Protection Plan has been approved by the Environmental Protection Agency. Great job everyone! This was a Team effort!  The published Update has been posted to the Partnership website and is available to download.  The Partnership is currently printing the Update and hard copies will be available by the end of the month. 
I would like to thank all watershed stakeholders for participating in this update. It has been a long process and now we have a great product to show for our effort. I would especially like to thank Dr. Jude Benavides for volunteering his time to be the Chair of the Steering Committee and providing guidance during the update process.
The Partnership has been working with local stakeholders and project partners for the last 5 years to conduct baseline monitoring, to model Best Management Practices and Management Measures, develop the plan and finally complete the Update. The Update represents a lot of work from various stakeholders throughout the watershed.  We consulted with Ag producers, USDA-NRCS, County Agents, Waste Water Treatment Facility operators, City officials, Public Works department directors, USFWS, TPWD, volunteer groups and countless other stakeholders to develop the Update.  It was then up to the Partnership to put all of those thoughts and ideas down on paper. 
Now that it is complete, the Partnership is eager to work with stakeholders in helping put this plan into action in order to preserve and best manage the Arroyo Colorado for our current and future stakeholders. We will be having a meeting on January 18th from 2–5 to discuss the plan and hand out copies of the WPP. Details below. Hope to see you there! 
*Arroyo Colorado Partnership Steering Committee Meeting Announcement*
Meeting to be held on January 18, 2018 from 2 – 5 pm
The Arroyo Colorado Watershed Partnership will be hosting an Arroyo Colorado Steering Committee meeting on January 18, 2017 from 2-5 pm at The Estero Llano Grande World Birding Center located at 3301 S. FM 1015 at Pauraque Hall in the rear of the park.   We will be discussing the completed Update ACWPP, upcoming Workgroup meetings and scheduling and upcoming grant opportunities.  We will have hard copies of the Update ACWPP available at the meeting for everyone that attends. 
Jaime Flores , Program Coordinator
Texas Water Resources Institute
jjflores@ag.tamu.edu